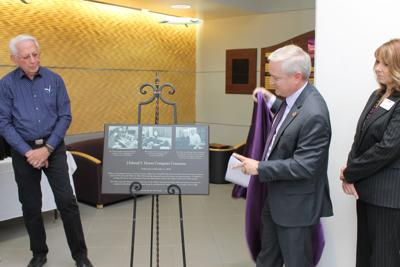 THATCHER – A long-time Eastern Arizona College instructor was honored last Friday, as the college's computer commons was dedicated to Ed Hunter.
As a plaque dedicating the new Edward S. Hunter Computer Commons was unveiled, Hunter, who taught business and computer courses at EAC for 40 years – from 1963 to 2003 – was surrounded by family, friends and one-time students. Also attending were members of the EAC Intertribal Club, of which Hunter was the original founding faculty member.
"He has been influential in the lives of hundreds, if not thousands, of students including me," said EAC President Todd Haynie. "I took a computer class from him back in 1993, and I still remember how wonderful of a teacher he was."
Hunter, who saw computers advance from huge mainframes to PCs over his EAC career, recalled how students once formed lines to use the campus' single computer, and seeing his first desktop model, a TRS-80 in the late 1970s. Hunter also helped design the college's High Tech Facility, which houses the computer commons now bearing his name.
"Mr. Hunter is an excellent example of some of the great, quality faculty members that we have here," Haynie said. "We're proud of him, and of all our faculty members and the influence they have on our students."
"My years at Eastern Arizona College have been truly a blessing, and I say a blessing from God," said Hunter. "I can look back and see the different places I found myself teaching courses and working with computers, and it's as though it was all planned."